Fresh off a recent trip to Europe, today I'm sharing what I packed for two weeks in Europe.  Despite having done this many many times before, I always find that I still have that little bit of anxiety right before a longer trip about whether I'm packing right.
You've probably felt it before, too (or maybe you're feeling it right now). Did I pack too little? Did I pack too much? Am I sure I have the right adapter?  Is this bag going to be the right one? Do I have things accessible enough for the TSA line?
Which is why I put together this list. It's my tried and true. The one I go back to over and over again and modify a touch each trip to make sure I've gotten it just right based on what I used or didn't use while I was overseas.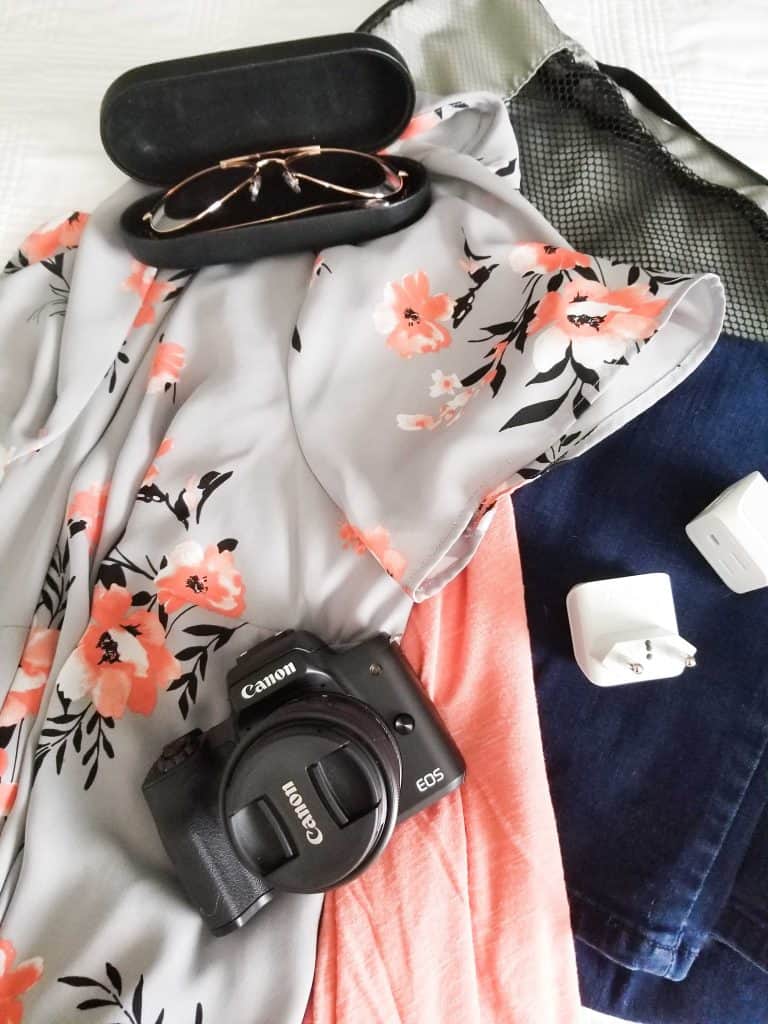 Note: This post contains affiliate links. This means if you purchase through my links I may receive a commission at no extra cost to you. You can read more on the disclosure and privacy page. 
CLOTHES
When I planned for this, I planned on the assumption that I would not have access to a washer/dryer, and that I likely wouldn't have time to do more than a little bit of laundry in the sink. 
I also had the added challenge of having to plan for some extremes in temperature. The weather in the places where I was going ranged from under 30 degrees and snowing to 50 and raining to 70 and sunny.  That's the biggest downside of traveling in shoulder season. While you get to save a lot of money on your trip to Europe, you also have to be prepared for the weather.
Finally, I had a free checked bag with my flight. With all of that in mind, I decided to bring my carry on bag and a checked bag with me. 
If you're planning to travel carry on only for two weeks, I recommend checking out my one week packing list. That list will be plenty so long as you can wash your clothes. You'll just want to plan to have access to a laundromat or alternatively, bringing soap and a line so you can wash your clothes in the room. 
My biggest recommendation when you begin packing is to pick a color scheme, and stick to it as much as possible. For this last trip, I picked red and black.  Partly because I like those colors and have a lot in my wardrobe and partly because darker colors won't show dirt or stains as much. 
4 tank tops

7 shirts

1 dress

1 skirt

3-4 pants  (including jeans, dress pants, leggings)

2 cardigans (one color that matches most of your shirts, one neutral color that goes with everything)

1 warm hoodie (this is great to just carry on the plane with you for when it gets cold, if you'd rather a denim or leather jacket so you have something fancier that works too!)

14 pairs of underwear (I didn't want to worry about running out. If you can do laundry, definitely take less and save space. These are one of the easier things to wash/dry in your room!)

3 bras (think about including a convertible bra or a sports bra depending on your plans and other clothes you bring!)

1 swimsuit (if you're headed somewhere with access to the beach or pool)

2-4 pairs of PJs 

7 pairs of socks 

1 lightweight rain jacket with hood
The rain jacket was a last minute purchase when I saw how many rainy days were forecasted before I left and was by far the most useful piece of clothing I brought with me. I had planned to just buy a small umbrella when I got there but I'm so happy I chose the rain jacket instead.  
For one it was super lightweight and fit in my smallest purse. The hood meant I didn't have to carry an umbrella, which would have been a pain during my trips into museums and palaces. It was also the perfect amount of warmth for those days when it was just a little too windy or a little too chilly in the morning to not bring anything.  It also broke the chill when I was in the Alps, and
The one I chose was this one from Columbia. It's super affordable, comes in a ton of colors and has a great size range. It held up well to all the abuse of being stuffed in purses, overhead bins, and kept me dry and warm. I can't recommend it enough. 
SHOES
I kept it light on the shoe front, and if you're even more of a minimalist with a really great pair of shoes you might even be able to whittle this down to one or two pairs. 
1 pair of flats

1 pair of sneakers

1 flip flop (these are small and perfect for around the hotel, in hostel showers, or for the beach)
You might have noticed that I only packed 7 pairs of socks and that's because I didn't anticipate having to wear a pair everyday as I had a pair of flats and a pair of flip flops with me. I wouldn't recommend wearing flip flops out and about in the city, but they still have plenty of uses and were lightweight enough that it made sense for me to bring them. 
The sneakers I brought were a more lightweight and comfy version of a pair I already had. My old ones were a little worn out and I was ready to upgrade.  They were black which meant that would go with everything. I always recommend wearing your heaviest pair of shoes on the airplane, but in the event you don't want to for some reason having a lightweight pair means they won't weigh down your bag. 
This is the pair I took with me. Despite the crazy amount of walking we were doing, my feet never hurt and I never got blisters.  Just remember with any pair of new shoes, you want to wear them for a couple of weeks before the trip to make sure they are broken in and comfortable. Nothing is worse than uncomfy shoes on a long trip!
The flats I brought were dressy enough to go with dresses, skirts and dress pants and still casual enough to go with my jeans on days I didn't wear my sneakers. 
BONUS ACCESSORIES
1 scarf (these make excellent airplane blankets, swimsuit coverups, they can keep the unexpected rain off of your hair, etc. just make sure it matches with the rest of your clothes)

1 pair of sunglasses (you're going to find yourself staring upwards at castles, cathedrals and fountains and you'll really wish you brought a pair if you don't!)
TOILETRIES
Toiletries are super personal, and everyone typically needs to bring something different so take this as a rough guide.  Then think about your morning and nightly routine and fill in or subtract where needed. 
Bar soap (1-2) or Body Wash

Shampoo 

Conditioner

Lotion

Sunscreen

Deodorant

Razor and 2 Blades

Toothbrush

Toothpaste

Tampons/pads/cup
I brought bar soap instead of body wash because it meant I didn't have to check it and it doubled as my hand soap. You can get shampoo and conditioner bars as well. 
Not to mention, most hotels have their own toiletries for free in your room.  I have sensitive skin and didn't want to have to worry about what was in the hotel. If that's not a problem for you and you're not staying somewhere super budget friendly like a hostel, your room will have body wash, shampoo and conditioner.  Our room had them installed directly in the shower. 
Any other toiletries you might want like lotion and sunscreen (and I recommend sunscreen – you won't realize how much you're getting walking around!), I highly recommend bringing with you.  You can absolutely get them over there at a local drug or grocery store but they are much more expensive in Europe than they are in the States. Sometimes twice as much for the exact same thing!
I brought my own, and put them in the GoToob 3.4 oz containers. I was skeptical about these when I first bought them as I felt like they might have been overhyped, but I love them. They're the largest size you can take in your 3-1-1 bag and they are designed to be leak proof. They are also made of squeezable material which means it's easy to get every last drop out of them.  Plus, as someone with shoulder length hair, they were the perfect amount I needed for my two week trip (and a little extra to be honest!) They're definitely coming with me on future trips! If you want to pick up the same set, just make sure it's the GoToob 3.4 oz/100ml containers as they come in a bunch of different sizes.
MEDICINE AND FIRST AID
Frankly, this could be its own post entirely as when I traveled last, it was with someone who has health problems and requires quite a bit of prescription medications. It was eye-opening to see how difficult it can be to travel for them. There's essentially zero chance of flying carry-on only, for instance.  So, you'll need to adjust this based on your own requirements for prescriptions and the like. 
The very basics that I think are good to have with you and a few you might want in a pinch: 
Prescriptions

Vitamins

Antihistamine/Allergy Med

Pain reliever

Tums (or similar)

Imodium (or similar)

Antibacterial ointment

Bandaids (1-2 in each size)

Contact solution (if you need it)

Tweezers (so many uses for these in a pinch!)

Kleenex
These will help patch you up so you can get to a local drug store to get what you need. 
MAKEUP
Moisturizer

Foundation

Powder

Blush 

Eye shadow palette 

Eyeliner

Mascara

Brushes
Miniaturify everything. Seriously. It's worth it. I love makeup and I wear it a lot so it's well worth it to me to bring it.  However, you want to take travel size whenever you can and minimize the amount of liquids you take with you.
I took a miniature blush and bronze out of this set by Benefit  and it was perfect. They took up so much less room. I grabbed mini eyeliners, mascaras and eye shadow palettes.  I also discovered one of my favorite things this trip that I would have sworn I never would have liked – stick foundation. Don't knock it til you try it (and definitely take it on your next trip).  I got this Hourglass Vanish Foundation, and I love it so much I'm using it at home instead of my usual liquid foundation. 
HAIR
Whatever you can do to minimize your hair routine, do it. You don't want to spend a ton of your time doing this when you could be doing other things like walking cobblestone streets and eating delicious food. However, even I had a few nights where I had events to attend so, like with the makeup, I made sure I purchased miniature versions of everything. 
Styling product(s)

Hairspray

Brush

Bobby Pins

Hair Ties
My favorite styling product on the trip was Dry Spun by Bumble and Bumble (you can get a mini travel size like this one) . It's like dry shampoo but better. It adds all of the volume without the weird white residue, and it was perfect for days where the weather was fighting me. 
ELECTRONICS
Phone 

iPad or Tablet

Chargers (Don't forget these!)

Camera (I love the Canon EOS M50

)

Converter

Power Bank 

Noise Canceling Headphones
I don't wear headphones all that often on a day to day basis, and because of that I'd never spent the money for a nice set. They always seemed way too expensive. This last trip however, I decided it was worth it if it meant I could get some sleep on the flight and not have the little earbuds digging into my ear. I cannot tell you how worth it it was!  I ended up sharing them with my family that was traveling so they could get some rest, too. It's entirely possible to find an affordable pair that still works well and has a good battery life on it. I bought these by MWOW , but there are plenty on the market to fit your needs. 
I also highly recommend grabbing a few converters so you can have one in various parts of your hotel room and charge your devices. We had one by the bed, one by the table and another in the bathroom and that worked perfect! 
The power bank is incredibly useful for the airport and for long day trips where you might not have access to an outlet. 
Definitely load your tablet up with books, music and movies. The selection on my flight was pretty great (including some Bob Ross episodes!) but I didn't want to be out of luck. There were also a few long car and train rides that they were useful as well. 
And make sure you have a plan for using your phone overseas. Whether you're getting an international calling plan (a lot of providers have affordable travel passes these days), switching out your SIM card, or just getting a cheap phone when you're there – it's well worth the investment to be able to look things up on the go. I can't tell you how many times we'd be out and want to see if the store was open on a Sunday, need to verify we were headed the right way with Google Maps or help us find a restaurant. It makes travel a lot more pleasant, and a lot easier to change plans on the go. 
DOCUMENTS AND MONEY
This list will again depend on where you're going and what you're doing. You may need additional tickets, a visa, or other documents with you. My biggest tip is that whatever documents you plan to bring, also make sure you have a copy saved somewhere digitally that you can access. It can be a life saver!
Passport

Tickets

Travel Insurance

Copies of Important Documents

Cash (Dollars and Euros)

Credit Cards
PACKING AIDS
Packing Cubes

Shoe Bags

Ziplocs or Small Bags

Luggage Scale
I cannot recommend packing cubes enough. I never used to use them, opting instead to go without or using plastic bags when it seemed necessary. Now I try to use plastic options if I don't have to but I do carry a couple of spares just in case.  
Packing cubes and shoe bags will not only help keep your luggage organized and clean, but they will be a huge help when you arrive as well. Not every hotel in Europe has a closet or drawers for your clothes, and packing cubes can make the perfect fake drawers while you travel. For example in my last hotel there were no traditional drawers or closets. Just a wall with some shelves. I was able to stack my cubes into one of the shelves and keep everything organized while I traveled. 

When I needed to pick out an outfit for the day, I could easily find what I was looking for, grab it out of the bag and slide it back into its place.  It made life so much easier. 
There are tons of packing cubes out there on the market and depending on your size and use for them there are many different variations to choose from. I'll have a guide up soon on how to pick the right packing cubes for you, but in general I recommend getting a set.  One really affordable option is this eBags set. I like it because it is durable, washable and lightweight. Plus with the mesh I can see whats in that particular packing cube without having to open it, which is a bonus – especially if you're digging through a bag. 
Another potentially useful packing aid if you're planning to check your luggage and bring back souvenirs is a luggage scale. You attach it to your luggage handle and pick it up to weigh the bag. Then you'll know if you need to move things around, leave something behind, buy another bag or something else. Since overweight bags can come with huge fees (our airlines was $200 where an extra bag was only $100), this affordable little scale can save you a lot of money and heartache. 
BONUS ITEMS
This is the catch-all category for things that might make your life a little easier. The pillow made it much easier for me to sleep while traveling, and the snacks I brought kept me from getting too hangry the first couple days before we had a chance to go shopping. 
Neck Pillow/Travel Pillow

Travel Towel

Snacks (Granola bars, candy, etc. just make sure they're airline compliant)

Ear Plugs 

Eye Mask

Deck of Cards

Travel Journal

Pen
And last but not least, a checklist: