Denver is lucky enough to be in a central location near the Rockies that puts you within a relatively short drive to some of the best national parks and adventures you could ask for. And likewise if you live there or if you're just in for a visit, will also be a quick hop away from any of these amazing places.  To help you plan, they're grouped into two lists – best one day trips from Denver that you could easily make in one ( but potentially long) day and those that will require an overnight stay or two to really soak in the experience and not feel rushed. So whether you have a day or an entire weekend, you can take an adventure. 
Best One Day Road Trips From Denver:
Rocky Mountain National Park
Perhaps one of the most famous national parks in the United States, Rocky Mountain National Park is a must-see for anyone living in or visiting Denver. The park hosts gorgeous views from Trail Ridge Road, an unfathomable amount of local wildlife, and more 14ers than you can count. There are great interpretive centers dotting the park as well as guided tours for all sorts of activities from hiking and snowshoeing to more adventurous mountaineering, or a slower pace of camping and fishing.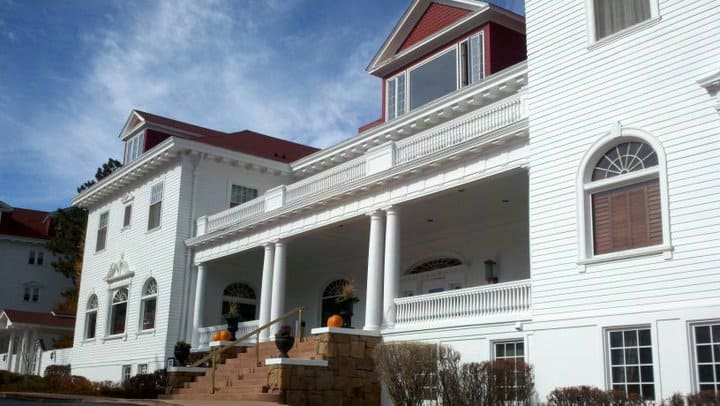 Estes Park
If you're headed to Rocky Mountain National Park, Estes Park is a quick stop along the way as well as one of the best entry points for the park. Famous for it's elk and it's haunted hotel, the Stanley, Estes Park has a main drag with all of the tourist shops that contain all the things as a roadtripper you might want to indulge in from fudge shops to quirky t-shirts. The Stanley has haunted tours and a whiskey bar, and elk can be spotted all over the property. It's worth a stop even just to get some pictures and the staff are patient with non-guests who just want to catch a glimpse of the famous property.
Vail or Aspen
As the  quintessential upscale ski cities in Colorado, Aspen and Vail have plenty to do year round from hiking to museums to shopping. They both make great spots for a summer weekend retreat, and particularly so if you want to indulge in spas, luxury hotels and gourmet meals. It's also, of course, a great place to spend time skiing or enjoying other winter sports. If Aspen or Vail isn't your taste, there are plenty of other mountain towns to check out like Beaver Creek or Breckenridge that cater to a more relaxed vibe. 
Pike's Peak
An iconic 14er nestled in the mountains just outside of Colorado Springs, you can see Pike's Peak for miles around. It's one of two 14ers in the state that has a road all the way to the top of the mountain, allowing visitors the opportunity to drive to take pictures from the summit. Pike's Peak also has a railway with scenic views to the top, and more adventurous folks can hike the stretch to the top.  There is a small visitor's center at the top which greets visitors with food and coffee, as well as souvenirs. It's a busy place during the summer months, so be prepared to wait a bit to snap your favorite photos.
Colorado Springs
Home to the Air Force and Olympic training center, Colorado Springs is a surprisingly buzzing city nestled in the shadow of Pike's Peak. It also has great food – local fare as well as globally inspired cuisine. Whether you stopover on your way to see Pike's Peak, or you spend a night and truly enjoy everything the city has to offer from Garden of the Gods to the National Museum of World War II Aviation.  (We've got more things to do in Colorado Springs here, too if you want a full guide!)
Best Weekend Road Trips from Denver:
Great Sand Dunes National Park
Great Sand Dunes National Park hosts towering mountains of sand that stand starkly against their Rocky Mountain backdrop. There's lots to do in the park, from climbing the dunes to sledding down them. In late May, snow melt causes certain parts of the park to flood creating rivers that only appear for part of the year.
Mesa Verde National Park
Located in the far southwest corner of the state, Mesa Verde National Park is home to some of the most interesting archaeological sites in the United States. You'll find hundreds of ancient cliff dwellings as well as a number of historical sites and museums interpreting the history of the people that lived in the region for the last several thousand years. Hovenweep National Monument, Canyons of the Ancients National Monument and the Four Corners Monument are all worth a visit.
Sante Fe, New Mexico
Sante Fe is famous for its art scene and there is no shortage of galleries, museums and markets where you can spend your day wandering through gorgeous works of art. Sante Fe also has a vibrant food scene and it's famous for its various chiles and unique take on Mexican cuisine. Hopefully by the end of your road trip you'll be able to decide between red and green chili. (Green is the best, by the way).
Yellowstone National Park in Wyoming
Well worth crossing the state of Wyoming, Yellowstone National Park has a plethora of unique things to see and do  – from it's geysers to its wildlife. It's the kind of road trip from Denver where you might want to pack in a few extra nights or maybe even a week if you want a chance to see even half the number of things this national park has to offer.
White Sands National Park in New Mexico
Famous for its blindingly white sand, White Sands National Park is only a hop, skip and a jump away from Denver and makes for a relatively easy road trip. You can take in the natural beauty of the park or head over to the White Sands Missile Range Museum to learn more about the area's critical role in the development of missiles and bombs. If you time your visit right you can visit Trinity Site, where the first atomic bomb was tested in the 1940s. It's only open two Saturdays a year though, so make sure you check the park's schedule.
If you're planning a trip to Denver, you'll also want to check out our guide for things to do in Denver as well as this Denver itinerary guide.