Beer, mountains, green-chili burritos, mile-high status – Denver is known for a lot of things, and the city has an almost endless supply of things to do and see. I lived there for nearly four years and always felt like I had barely scratched the surface! But it is possible to see some of the best Denver has to offer in one week, and that's why I've put together this itinerary. This plan focuses on things to do in or very close to Denver, if you want to include day trips out to the mountains or elsewhere  stay tuned, I've got an upcoming day trips from Denver guide!
How to Get There
Denver Airport is one of the busiest airports in the U.S., falling only slightly behind the big five. All the major airlines fly through it, and it's also the original hub for Frontier, and a frequent stop of other budget airlines. The airport has a reputation like none other – famous for its food, wine, and its… unusual art, multi-story basement and lots of conspiracy rumors involving aliens and the illuminati. Don't worry, they have a sense of humor about it.
If you prefer driving, Denver is at the intersection of I-70, and I-25. Both are well maintained multi-lane highways and have signage for Denver posted hundreds of miles in each direction. If you would rather travel by rail, Amtrak has the California Zephyr line that runs from Chicago, through Denver, all the way to San Francisco.
Where to Stay
Denver is full of great hotels. Hotels in the city will be pricier than the hotels in the suburbs, so if you're looking for a good deal you might want to check out one of the burbs or exurbs of Denver like Aurora or Highlands Ranch.
I've managed to get good hotels in both of those areas that were a lot cheaper than anything you could find closer to the city.  Just be aware that Denver highways are insanely busy, and plan to travel outside of rush hour if you don't want to spend hours of your vacation deadlocked in traffic.
If you'd rather stay downtown where you can be closer to some of the sights, and skip the highway in favor of walking, I highly recommend the Grand Hyatt Denver. It's close enough to the main sights to be very walkable and far enough away to be quiet at night. They have good food in their in-house restaurant, a pool and even a rooftop running track if you need to get some exercise in.
Perhaps most importantly they were impeccably clean, and the staff was wildly polite. I even received a call in the room shortly after check-in to ask if there was anything I might need. There's a Starbucks tucked just outside the front door in case you need your caffeine fix in the morning before you hit the road.
Getting Around Denver
Downtown Denver is very walkable if you're inclined to do so, and the public transportation system – including buses and the light rail can get you to many of the most popular sights in the city. Combine them with a taxi or ride sharing service and you can get pretty much anywhere.
But if you're staying the suburbs or hoping to do a day trip to the mountains, you should probably rent a car.  It'll get you around town much faster and let you skip all the hop on/hop off nonsense in favor of direct access. Plus, it just empowers you to change your schedule or take advantage of last-minute opportunities.
While I love Denver public transit for its general efficiency, I usually rent a car when I'm in town. Just be prepared for downtown parking fees which aren't always cheap.
Day 1 – Downtown Denver
Once you've checked into your hotel, I suggest spending some time getting acquainted with the city by going for a walk. If you're staying at the Grand Hyatt, you'll find 16th St. Mall one block to the southwest. There are no cars up and down 16th, but trams run up and down if you don't feel like walking the entire length.
There's lots of shopping – all your favorite chain stores, plenty of restaurants, and lots of people watching to be had. This is also the best place to grab souvenirs if you plan on taking any home – the Colorado flag features prominently and is pretty much the uniform if you're a local, but quirky "mile-high" gear is also ubiquitous.
Pop back up the street, near the hotel to have dinner at Guard and Grace. It's been voted the best steak dinner in Denver five years in a row by locals and with sides like chipotle lime smashed potatoes and truffle gnocchi, you are in for a treat.
After dinner, walk a few blocks south to 54Thirty Rooftop or Peaks Lounge for spectacular roof top views of downtown Denver and the surrounding mountains (and some delicious drinks). 54Thirty is outdoors and better during good weather while Peaks Lounge is enclosed by glass and better for a chilly winter night.
Day 2 – Denver Zoo & Natural History Museum
Start your day early by hitting up Denver Biscuit Company. One of the top-rated local breakfast spots in the city, it's also been featured in all the requisite Food Network and Travel channel specials. It features flaky biscuits piled high with fried chicken and cheese, sausage, eggs and gravy, or alternatively a deliciously sweet strawberry sauce.
Fill up and then, put your walking shoes on, and head to the Denver Zoo and Denver Museum of Nature and History.  They're located in the same centrally located park and make for an easy double feature. I recommend hitting the zoo in the morning, particularly in the summertime so you can beat the heat and some of the crowds!
You can grab a bite to eat at the Zoo or head over to the T-Rex Cafe. If you're willing to brave leaving the area and coming back, there are lots of restaurants around that area to choose from Mezcal to Annie's Cafe and Bar, to quicker eats like Illegal Pete's.
Then get your tour of the Denver Museum of Nature and History started. From exhibits on Egyptian history featuring a mummy, to an exhibit on rare minerals and gems to halls full of old school style exhibits of animals – the Denver Museum of Nature and History has something for everyone.
The museum typically has special blockbuster exhibits on special topics that you can check out as well as an IMAX and a planetarium. Oh, if you're looking for an extra fun treasure hunt of sorts, look for tiny gnomes that were painted into the backgrounds of the exhibit cases by the original artist.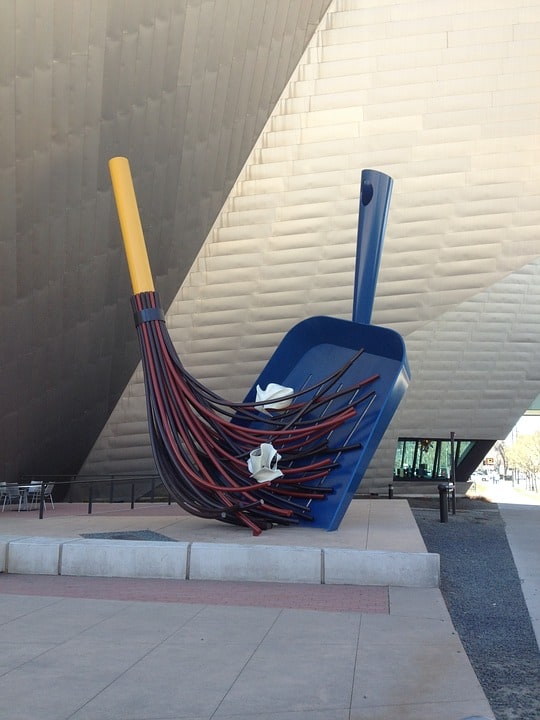 Day 3 – Denver Art Museum and Cherry Creek Shopping
Grab breakfast and coffee at Voodoo Doughnut Mile High. Yep. It's originally a Portland thing and not native toDenver, but locals have embraced it all the same. Plus, it's delicious and worth the visit.
Then head over to the Denver Art Museum. It's a massive complex with two giant wings – one that looks like a castle and another with a shard-like appearance that mimics the mountainscape. The museum is home to vast swaths of art across an array of periods – everything from Western American Art to European to Pre Columbian. The museum is renowned for its American Indian art galleries.
If you can manage to make it here on the last Friday of the month between January and October, the museum produces a nighttime event known as "Untitled". It features food, drinks, live shows, improv, and innovative tours that give a twist on classics – like interpretive yoga in the old European master's gallery.
Grab lunch at Mad Greens across from the salad bar. It's a local chain and it's amazing. Think Chipotle meets salads. You line up and pick out your favorite salad additions, and they do all the hard work of prepping the veggies and adding the dress. You just get to eat! I honestly wish these were everywhere.
Then you're off to Cherry Creek, known for its high-end boutiques and its shopping mall this is the place to get some serious shopping done while you're in town. Whether you need to pick up some new jewelry at Tiffany & Co or grab a macaron – they've got it.
When you've shopped so much you can't take it anymore, take a walk down the street to Cherry Cricket for one of the best burgers you've ever had in your life hands down. Like Denver Biscuit Co, Cherry Cricket has seen its share of TV fame. The burgers here come with a slew of toppings to choose from, everything up to and including peanut butter and jam. If you're extra hungry, I recommend getting the "frings" a platter of onion rings and fries that are as delicious as they sound. Cherry Cricket (like most places in Denver) also has a great selection of local beers on tap.
After dinner, you can head over to the South Broadway area. The area is an eclectic mix of vintage stores, one of kind unique shops like an 80s boutique and an array of bars ranging from hole-in-the-wall dives to classy joints where you can sip on champagne. The Hornet has awesome snack food if you get the late-night munchies, and Beatrice and Woodsley brings the fairytale story of a woodsman to life indoors. If you're looking for dessert, Sweet Action Ice Cream is a local favorite.
Day 4 – Beer Tour & Sports, catch an in-season game
As we talked about before, Denver is famous for its beer. The American Beer Festival, a sell-out event, is held here every year and some of the most famous craft brews call Colorado home. Even if you're a serious snob when it comes to beer, you're bound to find something here.
There are a host of breweries to tour if you're up for a day trip, but one of the closest is Coors Brewery in Golden. The tour is free and comes with free beer samplings during and after. And don't worry if Coors Light isn't your thing – they have prohibition era beers on tap as well as Blue Moon and Killians. The tour offers an interesting look back at the brewery's German roots and its long-time home in Golden, Colorado.
While you're in Golden you can take a side trip up Lookout Mountain for stunning views of the surrounding area. Below you you'll see the Coors Brewery and the Colorado School of Mines as well as Denver and the surrounding suburbs stretching out across the horizon.  The mountain is also home to the grave of Buffalo Bill Cody, and a small museum honoring his life. If you're lucky you'll catch elk meandering about.
There are a host of places to eat down the main street in Golden, and what you have for lunch can largely depend on what you're in the mood for. The quirky and delicious Woody's Woodfired Pizza is popular with locals and tourists alike. Plus, if you're hungry from your morning adventures they have an all you can eat deal that includes pizza, beer cheese soup and salad. They also offer local honey to dip your crusts in. Who can beat that kind of deal?
When you get back into town, check out the Great Divide Brewery for a beer or two while you wait for the game to start. A local favorite, there is a small tasting room inside the brewery where you can sample current beers.
Then head out to a game. Denver is famous for the number of professional sports teams it has in one city. If you're there in the summer, a Rockies game is worth checking out. Tickets are cheap – especially in the "rockpile" where they'll only cost you a few bucks or you can get a deal for a few more dollars that includes your seat, a drink and a hot dog. It's as much fun to sit around and chat and take in the atmosphere as it is to watch the game. The Denver Broncos no longer have Manning or Elway at the helm, but they still put on a good show and seeing a game at Mile High Stadium is a bucket list item to check off. If classics like football and baseball aren't your thing, Denver is also home to a professional lacrosse, hockey and soccer team.
After the game's over head on over to Linger, a mortuary turned restaurant, the place serves upscale street inspired food from all over the world. You order in small portions that are made to share, and pair it with tasty cocktails made by expert bartenders. The hours here fly by, and you can head up to the rooftop lounge to catch a gorgeous view and take in the Rockies' post game fireworks. Just make sure you make a reservation a few weeks ahead of time if you want a table on a weekend. 
If you leave early enough, you can sneak down to Little Man Ice Cream for a cone of creamy frozen goodness. They don't close until midnight, so you've got a little time! They carry all the classic favorites like chocolate and vanilla, but they also have an array of unique flavors like earl grey tea and cookies or salted maple pecan. They also have a solid lineup of vegan ice cream if dairy products aren't your thing!
Day 5 – Day Hike, Dinosaurs and Mile High Photos
Fill up with a ginormous green chili breakfast burrito at Sam's No. 3. You won't be able to eat it all, but you will, absolutely, want to try.  You're going to need the fuel for the epic and beautiful outdoor hiking you're going to do later in the day so don't think about the calories 🙂
Then head out to Mt. Falcon. You can catch a peak of Red Rocks Amphitheatre from the trail here and check out the Summer White House. In ruins now, the summer white house was originally envisioned as a vacation spot for American presidents in the early 1900s. The project never fully came through, and instead offers visitors a glimpse of what might have been.  Mt. Falcon has stunning views of the surrounding mountains and of the Denver valley below.
On your way back into town you can stop at the Dinosaur Ridge Visitor's Center. Here you can see the footprints of long deceased former residents of Colorado. There are guided tours and some exhibits to give you background on Colorado's prehistoric past.
Catch a late lunch at Hacienda Colorado. Its Mexican food meets Rocky Mountain inspiration, and while it's a local chain, it's delicious. They have tasty queso and guacamole and their margaritas are crisp and refreshing. It's a local favorite and worth trying!
After lunch head back downtown and take a walk-through Denver's Civic Center Park.  You can check out the state and city capitol buildings, explore the monuments and check out some interesting public art that surrounds the area. You can also get that coveted exact mile high shot on the steps of the capitol building.
Then head to historic Larimer Square, one of the oldest blocks in Denver the square has an assortment of gorgeous old buildings, indie shops and delicious food. This is the place to get all your independently made carefully crafted goods in Denver. From handmade hats to handcrafted jewelry, you'll find it here tucked away in quaint heritage buildings. It's also a beautiful place for photos, if you're into that sort of thing.
Have dinner at Euclid Hall Bar & Kitchen. The restaurant features upscale pub food and prides itself on uniquely created foods inspired by menus from around the world. The menu stretches from well-known comfort foods like fried cheese curds and chicken and waffles to the slightly more exotic Pabst Blue Ribbon Mussels and Pad Thai Pig Ears. They have a wide selection of craft and small brewery beers, focusing on the local. The menu arranges the beer from "arithmetic" to "quantum mechanics", describing the complexity of the flavor and your adventurousness in trying it!
After dinner, there are a variety of pubs, bars and clubs you can check out. If you're feeling adventurous, check out Mario's Double Daughter's Salotto. The bar has an Alice in Wonderland meets steampunk vibe that will make you feel like you've walked onto the set of a movie. If you've had too many glasses of the infamous red drink, you can order pizza from the sister restaurant next door.
Day 6 – History Colorado and Molly Brown House
Get up and head to Syrup for breakfast where you can get a delicious sugar fix – whether you prefer the true-blue maple variety, or you'd rather have a fruity option they've got you covered here, along with all the usual breakfast options.
Then make your way to History Colorado. Rebuilt and re-opened a few years ago, the History Colorado museum covered the history of all four corners of the state of Colorado, from its ancient history all the way up to modern day. And if you're hoping for a trip back to the "old west", don't worry all the mining history and homesteading background is cover.
After you're done at History Colorado, grab lunch at Good Times. This is the local fast food chain, and frankly it's some of the most delicious fast food you'll ever have. The burgers are solid and the fries, well, definitely get the green chili cheese fries. They can't be beat. Top off the meal with a malt or custard. Their monthly flavors are always delicious, but you can't go wrong with a turtle sundae or spoonbender.
After you've filled up on Colorado History and delicious burgers and fries, there's one other historical gem you won't want to miss – the Molly Brown House. Famous as the "unsinkable" Molly Brown who survived the sinking of the Titanic, she was never actually called Molly in real life. As impressive as her survival of the Titanic was, the rest of her life was equally so.
Fed up with her husband she filed for divorce and managed to keep a great deal of his wealth and the house for herself. She was a well-known philanthropist and founded the Dumb Friends League, a shelter for stray dogs that exists to this day. The Molly Brown House covers not just her life but elements of her time and the many lives the house had after Margaret Brown died. You'll want to make sure to time your arrival here as the only way to see the house is through guided tours.
For dinner we're sticking with the history theme with a reservation at Williams and Graham. Make it ahead of time, a few weeks before you leave to be sure you can get in. The small bar and restaurant is fronted by what looks like an unassuming store. Don't let that fool you. Once you walk in and give them the secret password, you'll be admitted through a secret door in the shelving behind the front desk where you'll be led into the prohibition era style bar.
It's small – very small – only a few tables fit in this place and while they could certainly cram more people in, they purposefully keep it limited. It gives the place an intimate feel. The cocktails are inspired by the historic ones and the food is a-mazing. Your wait staff will call you by name all night in a way that makes you feel like a regular who comes to this place every week.
Day 7 – Snooze and Botanic Gardens
We've saved the best breakfast place for last (or at least in my opinion, I'm sure there are some fans of the other places you've visited this week that would argue passionately for their own favorite).  Snooze A.M. Eatery. All the food here is delicious, and I will rave about it to anyone who will listen.
I still dream about the chili verde benedict, but what they are known for, and what you absolutely must try are the pancakes. You can get a whole plate or a side serving (and they'll let you sub out your hash browns or toast for a pancake, too!). They come in the traditional favorite flavors like buttermilk and chocolate chip, but they also serve a rotating list of seasonal favorites that will knock your socks off. I'm pretty sure these pancakes would even convert people who don't like pancakes at all.
They make a good cup of coffee, but if your inner kid is thirsty, their hot chocolate is the perfect pairing to a stack of pancakes. Just make sure you get there early. Snooze is beloved by many and if you're aiming for brunch rather than breakfast, be prepared to wait in line.
If you have time before you need set off for the airport or hit the road, make your way to the Denver Botanic Gardens. Beautiful, educational, and positively serene at points, there is something for everyone here. The Gardens also have changing exhibits of artwork that always prove to be interesting.
What are you most looking forward to in Denver? Do you have a favorite thing to do in Denver? Did I forget it on this list? Tell me about it all in the comments!
Looking for substitutes for your Denver itinerary?
Denver Museum Guide: The Best Museums in Denver
Looking for day trips outside Denver?
The Best Things to do in Colorado Springs