I love Denver (check out my almost endless list of things to do in Denver or this Denver itinerary), but in the last few years as the population there has exploded and the traffic has gotten intense sometimes I prefer a little bit less chaos. And while it's smaller than its northern neighbor, there's no shortage of things to do in Colorado Springs.  Its bounded by the mountains on one side and the rolling plains on the other, and Pike's Peak towers over the city at over 14,000 feet.
It's filled with local restaurants where you can get pretty much any type of food you can imagine as the restaurant scene in Colorado Springs is eclectic with a hipster vibe. But the city still stays true to its roots. While walking down some of the main drags through the city, you'll have one bar humming with the sound of a fiddle and boots hitting the hard wood of the dance floor just across the street from another club belting out the latest pop hits.  And there's a strange harmony in all of it.
While there's definitely a host of indoor attractions, you'd truly be remiss if you didn't get outdoors and enjoy the gorgeous scenery.
Things to Do in Colorado Springs
Garden of the Gods – Along with Pike's Peak Garden of the Gods should be at the top of your list if you're visiting Colorado Springs. The park features the bright red soil native to the area and stunning rock formations. If you're there at the right time you might even catch rock climbers scaling the face. From the right angle, you can get gorgeous photos of Pike's Peak rising out from behind.  It's a truly beautiful place and well worn trails make it an easy walk to and from the parking lot.
Manitou Springs – Manitou Springs is Colorado Springs quirky little neighbor. It features antique shops, organic restaurants, and lots of rustic charm. It's a great place to wander and dip in and out of stores when you just want to spend a relaxing afternoon.
United States Air Force Academy – Colorado Springs is home to the Air Force Academy. I am sure there is some ironic quip here about the elevation of Springs and the Academy being based here that a million people have used before. If you're interested in Air Force history, you can take a tour of the visitor center and the grounds.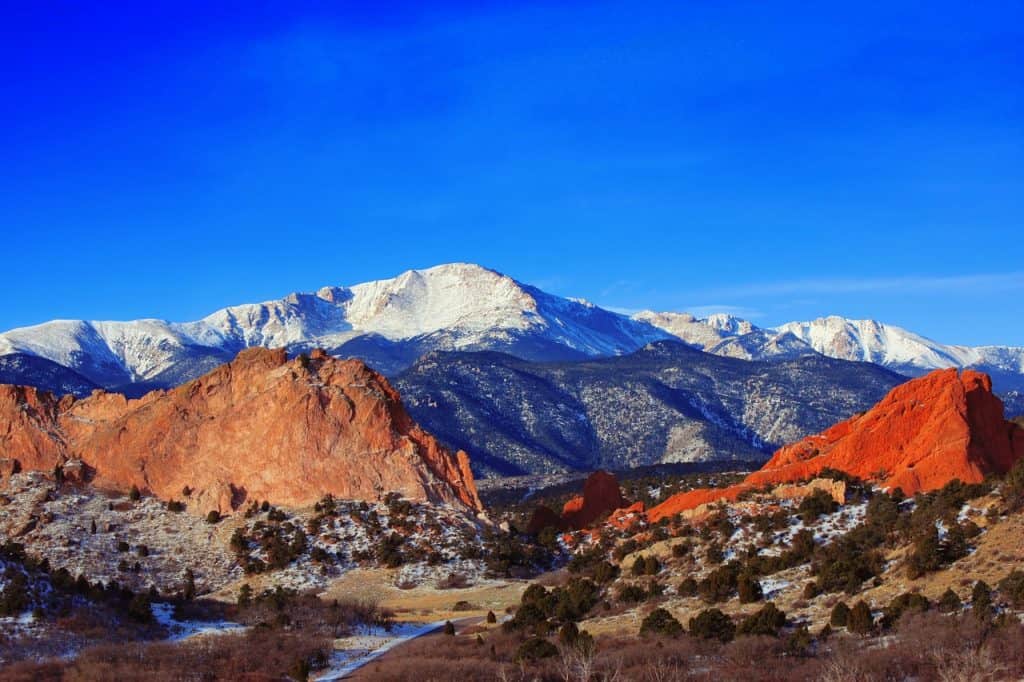 Pike's Peak –  Of all the things to do in Colorado Springs, this is probably my favorite. You can summit Pike's Peak in a variety of ways, the two most popular being the rail line or simply driving up (catch the bigfoot crossing signs on your way!) There is a small cafe and tourist shop at the summit. The peak features breathtaking vistas.  Tip for flatlanders: make sure you're careful of hikers and wildlife, and shift your car into a lower gear on the way down the mountain.  Rangers will check the temperature of your brakes on the way down to make sure they don't fail. 
National Museum of WWII Aviation –  As a hub of aviation and Air Force, it makes sense that the National Museum of WWII Aviation would be in Colorado Springs. The museum features an array of WWII planes and vehicles. Check the museum's website for current exhibits and opening hours, as they are limited.
Western Museum of Mining and Industry – Before it became famous for beer and the great outdoors, Colorado was famous for its mining. From the gold and silver rush, to a wide array of jewels and minerals that have been discovered deep in the mountains, Colorado has a long history of panners and miners. The Western Museum of Mining and Industry takes visitors back through the hopes and dreams of the immigrants who made their way west in hopes of striking it rich and the challenges and trials of mining.
Downtown  – the main drag through Colorado Springs has a host of restaurants, bars and clubs that are well worth a visit. There's everything from a country bar with a large dance floor to an Irish bar that features good food and live music. There's truly something for everyone, and it's worth spending a night wandering the street to see what's on that evening.
Seven Bridges Trail – if you're looking for a relatively easy hike to make you feel like you're far away from civilization even when you're not that far out of the city, this might be the hike for you. The trail also features meandering streams and beautiful scenery.
Seven Falls – Not to be confused with Seven Bridges, Seven Falls is a steep climb up the side of a mountain next to a cascading waterfall. A popular tourist attraction, it's not for those afraid of heights!
Have you found other amazing things to do in Colorado Springs? Let me know in the comments!